NORTHLANDS' COOLEST ACTIVEWEAR FOR HIM & HER
Fashion
06 June 2017
While winter represents the perfect excuse to rug up and stay in bed it also represents being halfway through the year and that much closer to Summer. So, with the promise of warmer months to come we thought we'd kickstart your fitness aspirations with the help of our favourite active wear finds! From bold prints to classic black there is something here for everyone:
a/ Lorna Jane No Excuses grey tank $50 from Stirling Sports
This tank is the perfect way to wear your motivation so that you can see it, especially on those frosty winter mornings.
b/ Nike Indy Block Bra $70 from Stirling Sports
A sports bra meets fashion-forward crop top for lovers of black, white and 'logo everything'!
c/ Adidas Ultimates print/black 3/4 tights $90 from Stirling Sports
Designed for making stretching and flexing both free and easy.  It also doesn't hurt that these are made from recycled polyester and elastane components.
d/ Adidas Originals blue/multi Fire Bird Track Jacket $130 from Stirling Sports
A fun zip-up that references Tokyo street fashion and ensures that you stand out from the crowd.
e/ Adidas Originals white Big Trefoil Tee $70 from Stirling Sports
Whether you're looking to fulfil your activewear needs or just add a tee to your casual wardrobe, this statement-maker can do both.
f/ Lynx Achilles grey sneaker $59.95 from Hannahs
Made in the softest shade of grey, this is a versatile sports shoe that can go the distance.
g/ Puma Style jacket in white $120 from Stirling Sports
While there is a black version of this jacket, the white appeals for its crispness and versatility to either be the perfect gym or weekend cover-up.
h/ Superfit harem jogger pant $69.99 from Farmers
Every workout wardrobe needs a relaxed track pant and the harem-style is still a crowd-pleaser.
i/ Bendon Energetic underwire sports bra grey $69.95 from Farmers
Touted as being Bendon's highest support bra yet, the energetic underwire bra was created with high intensity workouts in mind.
j/ Adidas Originals pink Tubular Viral 2 shoe $150 from Stirling Sports
Just when you thought you'd seen the last of summer pastels they come 'running' back in the form of a killer trainer.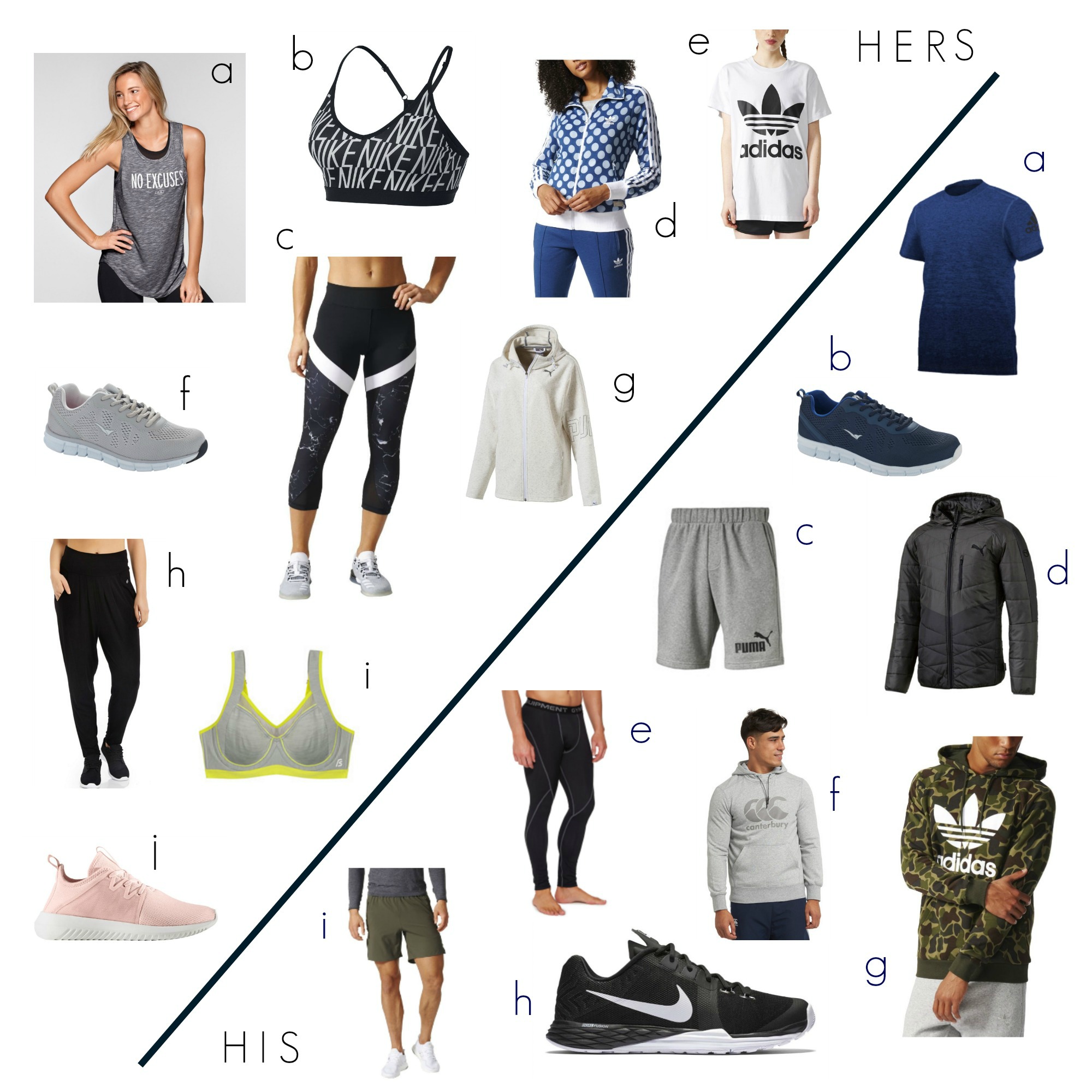 a/ Adidas Gradient tee $50 from Stirling Sports
Made from climalite fabric, this tee not only looks great but is designed to keep the wearer drier too.
b/ Lynx Archilles sneaker in navy $59.95 from Hannahs
Blue is making its presence felt this winter and none more so than the men's Achilles sneaker in sleek navy.
c/ Puma Essential No.1 fleece shorts $59.99 from Farmers
A comfy activewear staple that doubles as relaxed weekend or around-the-home wear too.
d/ Puma Active black Norway jacket $179.99 from Farmers
Puffer jackets are big this season and while you're spoilt for choice we love the look of the Norway jacket from Puma.
e/ Gym Equipment compression tights $44.99 from Farmers
If you're into serious fitness and rapid recovery post-workout, compression tights are a must-have.
f/ Canterbury Core Logo hoodie $89.99 from Farmers
A closet staple and gym go-to, the core hoodie is a great essential and we're liking the look of the grey-marle colourway.
g/ Adidas Originals Camouflage hoodie $130 from Stirling Sports
Referencing streetwear trends, this sports hoodie takes camouflage to the next level and can easily be worn off the court too.
h/ Nike Train Prime Iron DF black sneaker $150 from Stirling Sports
There are black sneakers and then there are these! The Nike Train Prime looks as good as it wears with an emphasis on grip and support for weights or cardio workouts.
i/ Adidas Ultra Energy shorts in green $80 from Stirling Sports
Whether you need shorts for training or casual-wear these will transition between sporting needs and casual wear with ease.
NOTE: The price and availability of the items mentioned is subject to change, we recommend heading in store to avoid disappointment.