PRINT CLASHING | GET THE LOOK | NORTHLANDS
Fashion
13 October 2019
Want to be a little more playful with your style coming into spring? Then wear it your way by print-clashing fabrics together!
I promise, it's not as hard (or messy) as it sounds. Print clashing can be a really fun way to add your own personal stamp to your outfit.
So I wanted to share three of my expert tips to help you nail that print clashing look, along with some of my favourite pieces to help you do that from Northlands.
Pick prints with similar colours
You still want to look like your outfit is put-together, not that you got dressed in the dark, so to keep some uniformity to your look, use prints that have the same colours in them.
Black and white (or navy and white) is a good place to start, that way you're not adding bright colours to the mix too!
If in doubt, start with stripes
I often joke that stripes are a neutal, but in this case, they really can be! 
My personal print-clashing combo is wearing a stripe with a floral, it feels fun and feminine, without looking like a whole bunch of nana's cushions.
The smaller the stripe the better too if you're just starting off. It's a less-intrusive print so it won't even really feel like you're wearing two prints.
Look for contrasting prints
You want to make some sort of impact with your print-clashing, so make it look like you've done it on purpose by wearing prints that are definitely not the same.
For example, a strong graphic print (spots, stars etc) with a softer print (florals, paint strokes).
If you're worried about it look a bit higgledy-piggledy, see the above two tips for a starting point.
HERE are some of my fave pieces from Northlands to help you print clash like a pro…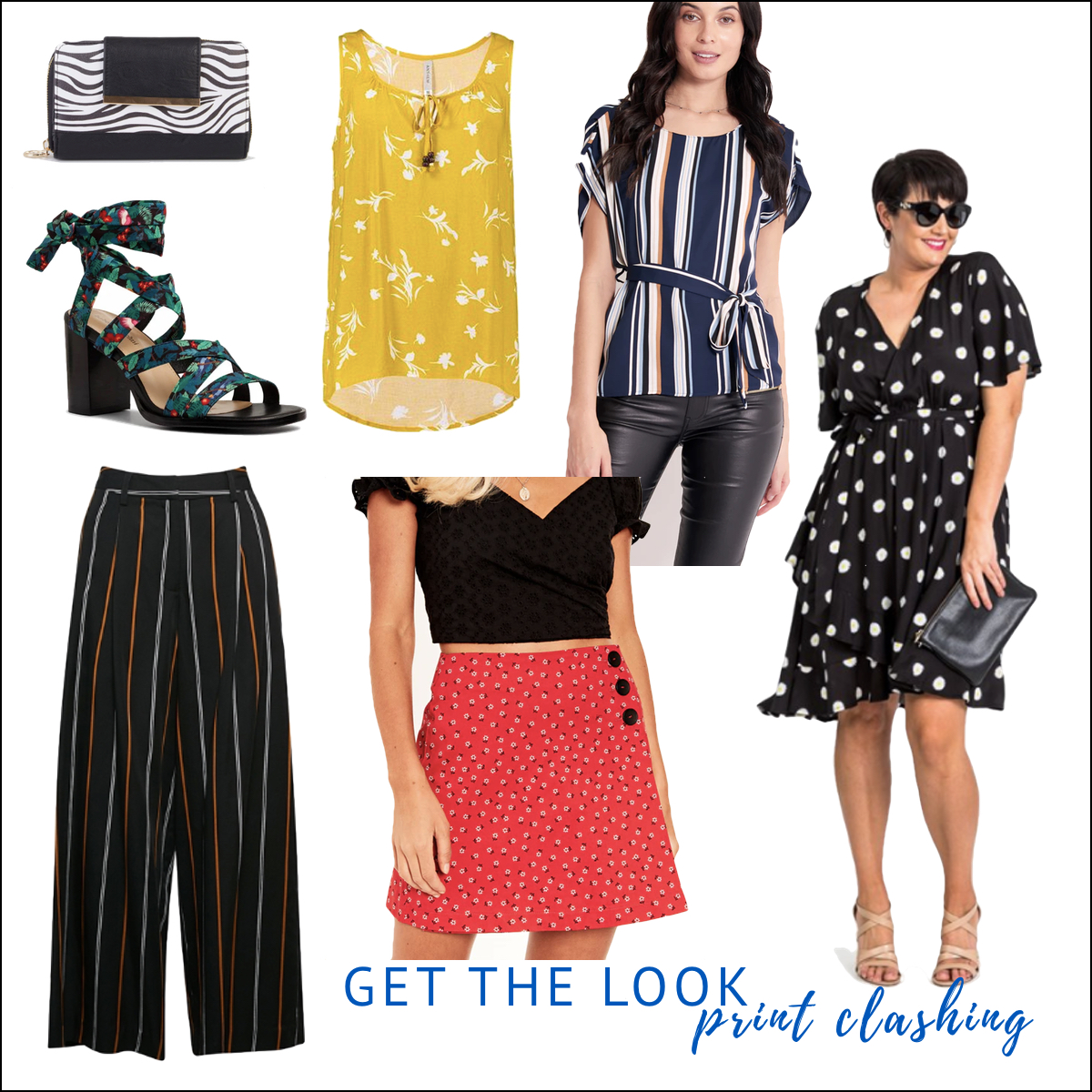 SHOP THE LOOKS AT NORTHLANDS:
Strandbags wallet | Anthem top from The Warehouse| Pagani stripe top | K & K spot dress | Overland – Merchant 1948 floral heels | Max stripe pants | Glassons floral red skirt
Until Next Time,
Happy Shopping
Cait xoxo
Want more one-on-one help to nail your print-clashing?
Book a talented stylist at Northlands for a KiwiStyle session now.