11 MUST-HAVE SKIN TREATS FOR SUMMER
Lifestyle
09 January 2017
Right about now your skin may be feeling a little dry and like it's seen too much sun. If that is the case you'll be glad you stumbled upon this list. Here are 11 of our favourite skin-savers to help you see out summer: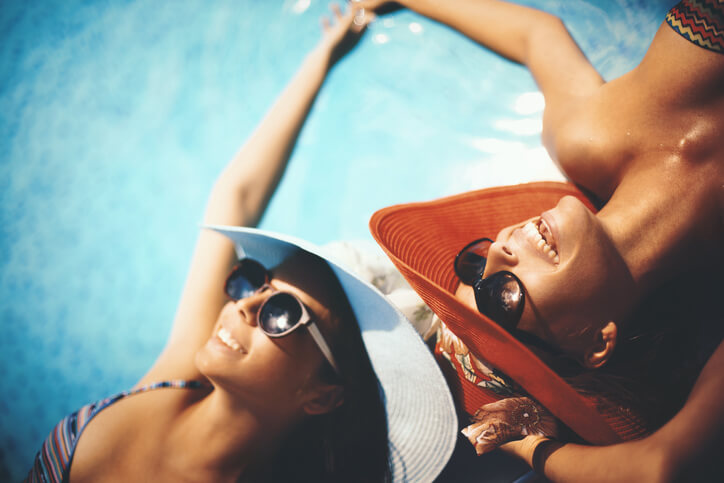 1. SOOTHING ALOE RESCUE CREAM MASK from The Body Shop
Skin feeling a little parched? Lather it in this aloe-infused mask and you'll feel like it's been rescued.
2. COOL DIP HAIR PURIFYING SHAMPOO from Farmers
A cleanser that removes product and excess build-up from your hair? Yes please!
3. ENLIGHTEN CORRECTIVE SERUM from Farmers
Have fun in the sun during the day then rest and rehydrate your skin at night. Also great for dark spots and pigmentation.
4. WATERPROOF MASCARA from Farmers
Keep one of these in your handbag and say goodbye to panda eyes by the pool.
5. MOISTURE RENEWAL HAIR MASQUE from Farmers
A hair masque is like an at-home spa for sun-damaged hair and this one is a goodie.
6. VITAMIN E HYDRATING FACE MIST from The Body Shop
What smells like rose petals, sets your makeup and refreshes the skin? Why, this luscious hydrating mist of course!
7. DETANGLING COMB from The Body Shop
Sick of salt and chlorine messing with your hair? It's a good thing you found this comb then!
8. SHISEIDO GLOBAL SUNCARE COMPACT SPF 50 from Farmers
Combine a high-powered SPF with a luxe foundation and you've made getting to the beach one step quicker.
9. OILS OF LIFE REVITALISING FACIAL OIL from The Body Shop
Black cumin, rosehip and camellia seeds combine to make this facial oil one incredibly restorative, and ultra-hydrating drop.
10. WILD ARGAN MIRACLE OIL FOR HAIR AND SKIN from The Body Shop
We love products that do double duty like Argan Oil. Think of it as a cool drink for dry hair AND even better, dry skin.
11. LUCAS PAWPAW OINTMENT from Farmers
Cracked skin, dry lips and minor skin irritations be gone! If you don't have a pottle of this in your beach bag you're missing out!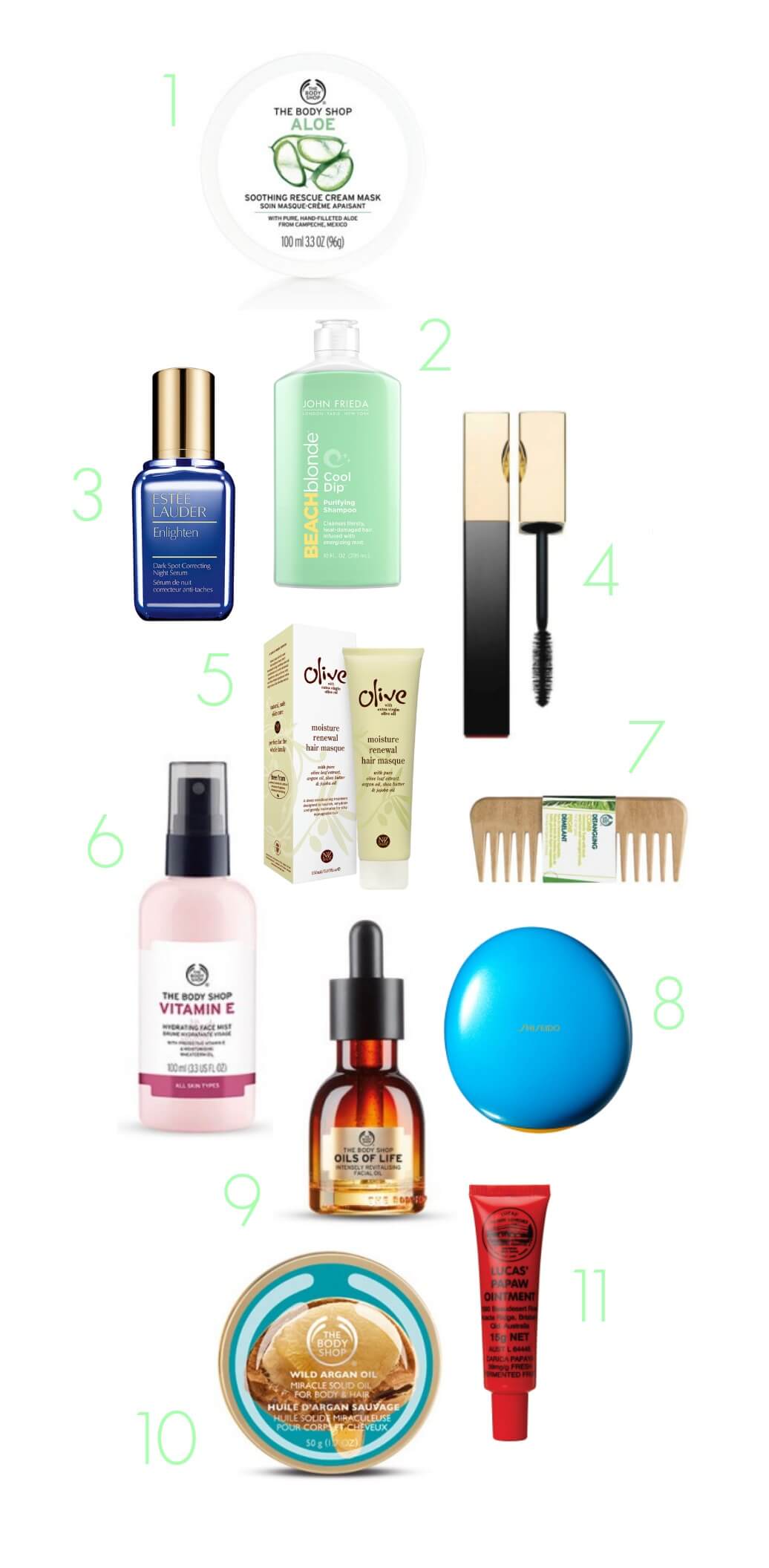 Soothing Aloe Rescue Cream Mask from The Body Shop 2. John Frieda Cool Dip Hair Purifying Shampoo from Farmers 3. Estee Lauder Enlighten Correcting Serum from Farmers 4. Clarins Waterproof Mascara from Farmers 5. Olive Moisture Renewal Hair Masque from Farmers 6. Vitamin E Hydrating Face Mist from The Body Shop 7. Detangling comb from The Body Shop 8. Shiseido Global Suncare SPF 50 Compact from Farmers 9. Oils of Life Revitalising Facial Oil from The Body Shop 10. Wild Argan Oil for body and hair from The Body Shop 11. Lucas Pawpaw Ointment from Farmers