A TOUCH OF AUTUMN
Lifestyle
23 March 2018
The cooler weather is on it's way, so it's time to bring warmth back into your home.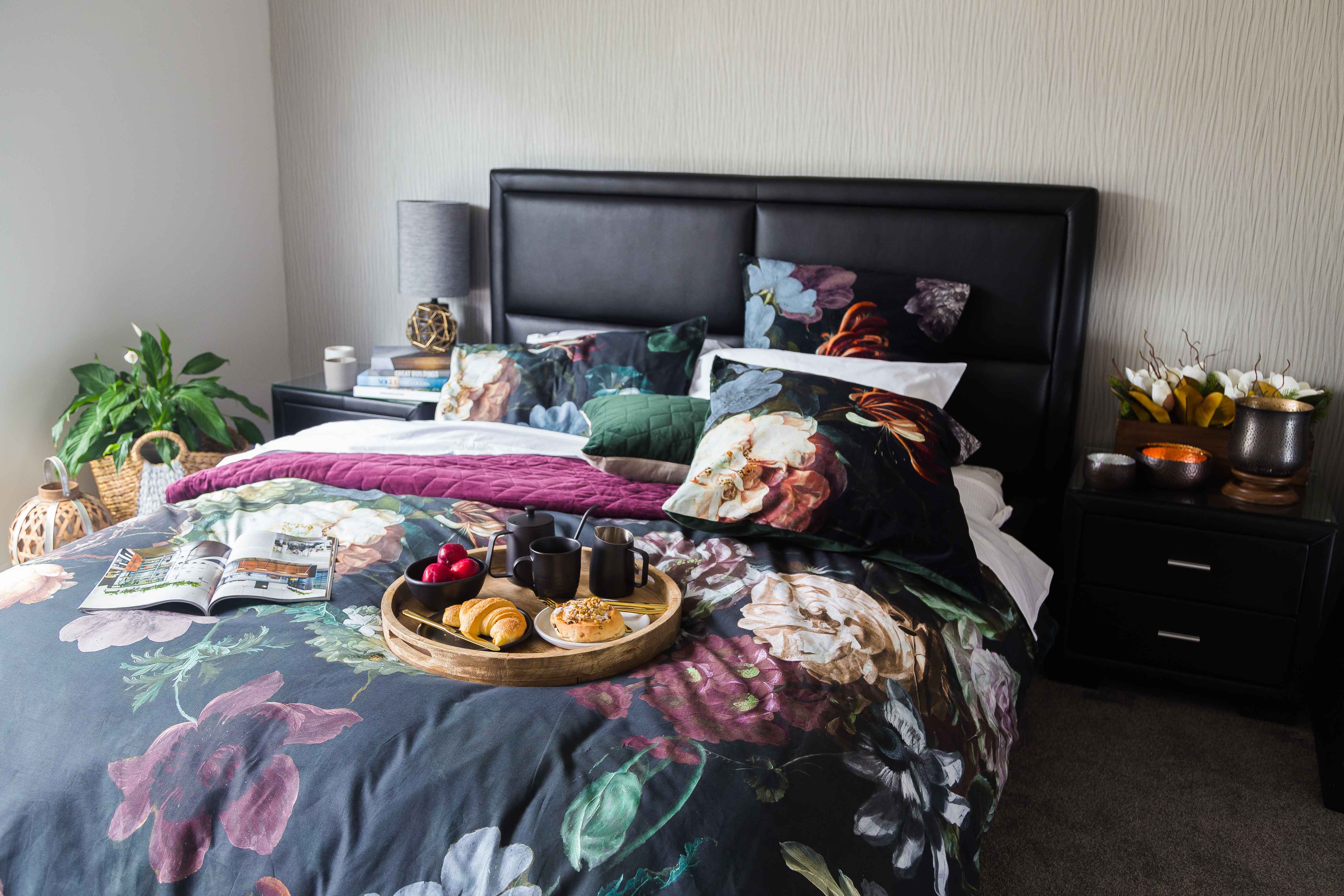 Linen House Winona duvet cover set from $189.99, Kew throw in aubergine $169.99, Kew cushion  in ivy $49.99 Farmers, Maytime N1205 round large tray in mango wood $89.99 Acquisitions, Munich gold cutlery from $7.99, Bayly & Collis dinnerware from $19.99, Capital Kitchen café coffee pot & milk jug from $39.99 Stevens, Tilly@home magnolia flowers in pot $129.99 Farmers, Morgan & Finch squat metal t-light holders small $36.95, medium $49.95, large $64.95, wood base perforated hurricane $89.95 Bed Bath N Table
I love autumn and the way you can easily make small changes to give a totally different feel around the place. The best room to start making changes, for me is the Master Bedroom. This is somewhere you consider your little haven, where comfort and relaxation is an absolute must.
Making small changes can make all the difference! I'll drop my top tips below…
Add some ambience! Everyone loves a candle, they have an instant calming effect and leave behind a beautiful scent that will linger throughout your home. You can find some beautiful candles by brands – such as Ecoya – at many of Northlands' retailers such as Farmers and Bed Bath N Table.
Don't be scared of colour! This autumn you can expect to see pops of mustard, green and plum colourings, throughout fashion and homewares. This is a good way to lift the room, but still stay on trend at the same time. If you're a little scared to have anything too bright as your base colouring, bring it through in your accessories as pictured above.
No bed is complete without a throw! For years I went without, but now owning my own home I have become throw obsessed. Not only do they effortlessly complete the look of your bed, they are so easy to change up and are perfect for those rainy nights where you want to cuddle up and rug up. Pictured is the Kew throw in aubergine $169.99 found at Farmers.
If adding large amounts of colour just isn't for you, or the man in your house isn't too thrilled with the idea, there are other options as to how you can achieve staying on trend in a more subtle way. For me, I absolutely love adding greenery or florals to the bedside tables. They just make such a difference to the whole feel of a room.
I have personally always been into purchasing faux florals – they are absolutely the way to go, especially if you live a busy lifestyle. They require no maintenance, so they look fab everyday and are super easy to change up around the home to keep things looking different and fresh when desired. Pictured are the Tilly@home magnolia flowers in pot $129.99 Farmers.
So there you have it! A few tips on how to prepare your home for the change in season. Make sure you have fun with it, and remember this is a space you spend a lot of time so it needs to be a nice relaxing place you can relax and unwind.
You can find all of these great products pictured – and more! –  at Northlands.
Happy Shopping!