LOADS TO LOVE AT LUSH
Lifestyle
23 July 2018
Lush is a truly exceptional store. It smells heavenly, it's overflowing with intriguing handmade products, the staff are loveable and bubbly, and their commitment to the planet is inspiring. There's actually no other store quite like Lush and you'll probably find the experience – from exploring items and the service – unparalleled.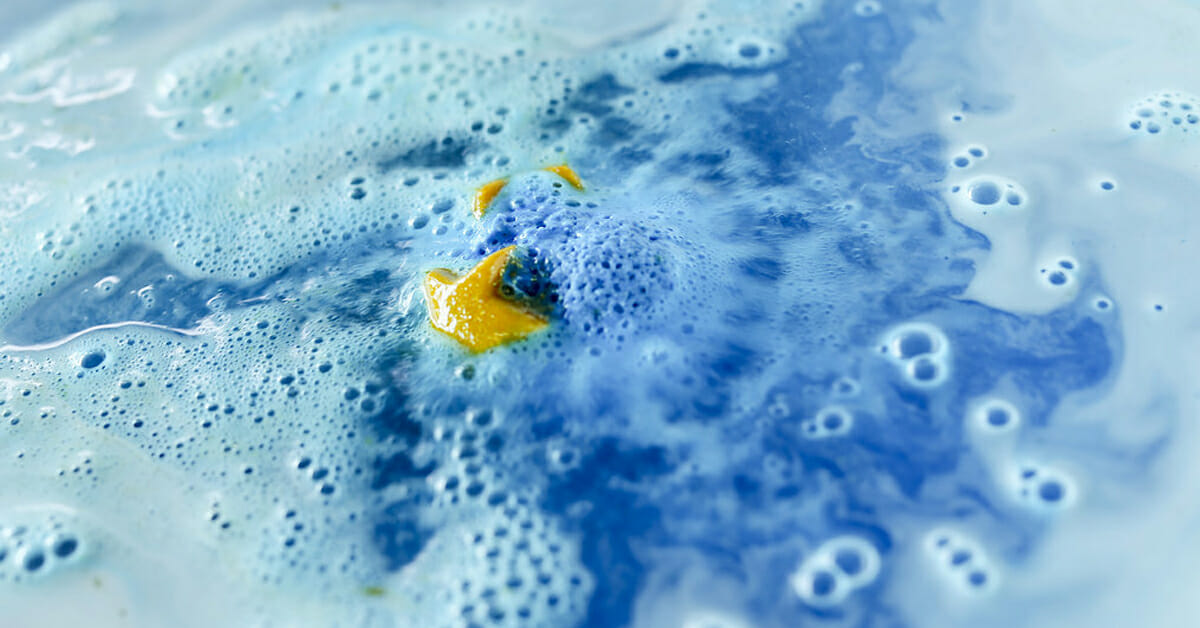 From fresh and fruity soap bars, creamy massage oils, brilliantly bright bath bombs, to extravagantly wrapped gift boxes and much more, there's no better way to shop and unwind, daydreaming about your impending bath or shower time. Plus, you're going to feel good about using Lush products; all ingredients are purchased fresh and ethically, and aren't tested on animals.
So, when we say there's loads to love at Lush, we really, truly mean it.
But one thing we love about Lush is their ability to cater for all different occasions, times of the year and different preferences when it comes to scent and texture. Because we're all different, right? And the (coffee-scented caffeine-filled) shower of sadness you take on a wintery Monday morning is going to be pretty different to the (fun, shimmery and sparkly) shower you take on a tropical holiday!
With this in mind, we've searched for our favourite occasion products depending on what you're looking for! So if you're in need of a night in a hot fragrant bubble bath and glass of rosé in hand, or if your skin is crying out for some TLC, keep scrolling, and prepare to treat yourself!
IT'S ALL COMING UP ROSES
Warm florals and rosy Turkish delight are scents that Lush absolutely nails, no matter the product. Try some of their specially formulated natural soaps and bath oils for a sensual, petal-filled bath or lather yourself in rose body conditioner to make you feel like you're picnicking in a European garden. Ro's Argan Body Conditioner might be my very favourite product in the whole store, leaving your body silky, nourished and soft! Whether you're opting for a rose macaron bubble bar or even a rosy perfume, all of Lush's floral products are pretty and pleasantly perfumed, and blooming perfect for a rosy glow.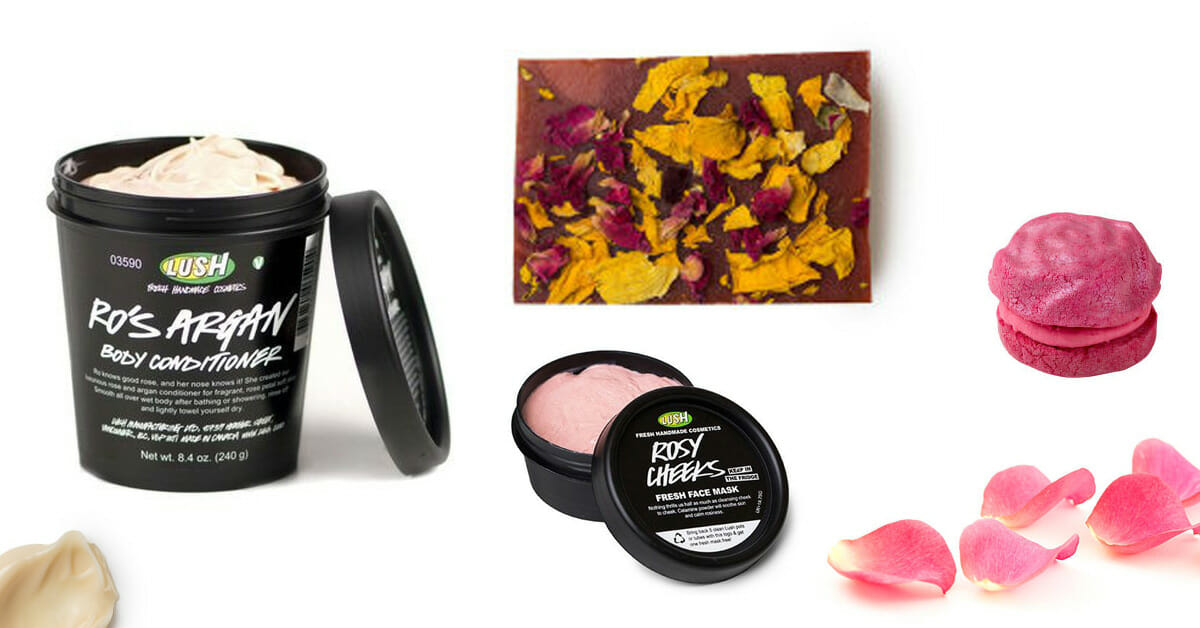 Ro's Argan Body Conditioner | Rosy Cheeks Fresh Face Mask | Ro's Argan gourmet soap | Rose Jam bubble bar
IF LIFE GIVES YOU LEMONS, BATHE IN THEM!
Citrus and fruity scents are the essence to a sharp start to the day and the maker of fresh and clean skin. In summer, the natural juicy scents of citrus are the ultimate day fragrance, strong enough to dance off your skin and hair all day long! For sublime lemon and lime to hit the senses, try the delicious Key Lime Pie lip scrub (a great gift, by the way) or some luxurious salted coconut hand scrub, and start a long day the right way with the zesty marmalade bath bomb. Best enjoyed with coffee and after an extra-early alarm! There's nothing sour about this fruit.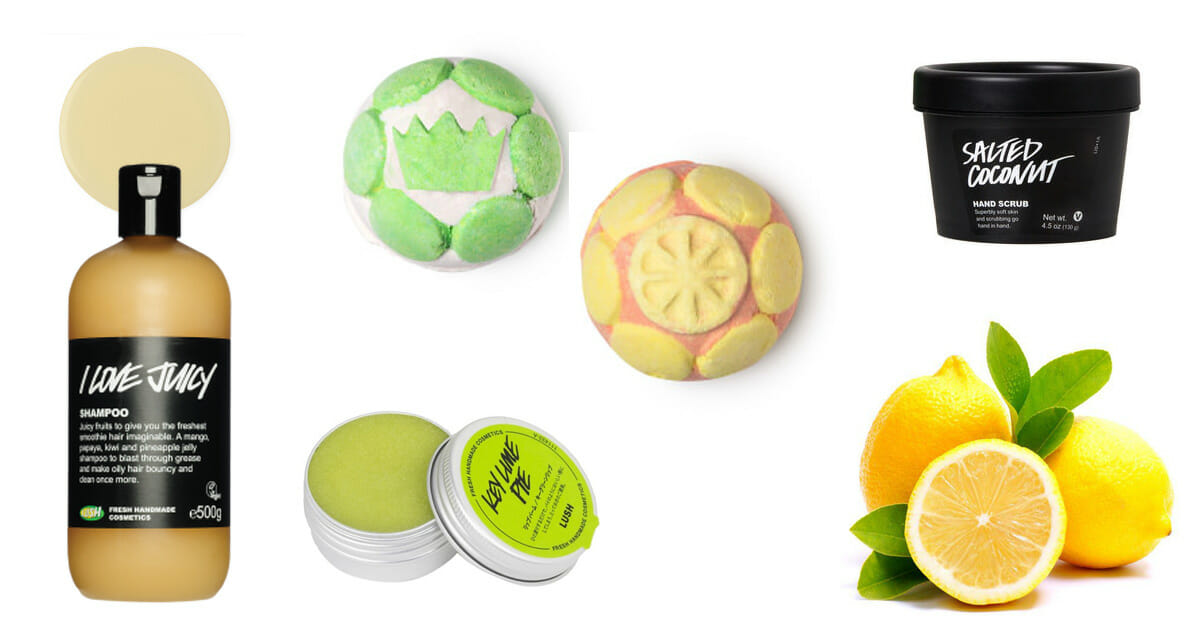 I Love Juicy shampoo | Key Lime Pie lip scrub | Green coconut jelly bomb | Marmalade jelly bomb | Salted Coconut hand scrub
SUGAR? YESPLEASE!
If you've always wanted to smell like a fairground or the cinemas' candy bar sans the carbs, then these products are for you! Wash off a bad mood or quell a bad day in the office with a sparkling sprinkle of candyfloss-pink shower gel from head to toe in a steamy shower, with a cupcake face mask and peppermint foot lotion treat to finish. You'll be smelling like lollies and hitting all of your sweet spots! The Snow Fairy shower gel is limited edition, with appearances in-store mid-year and at Christmas for syrupy sweet shower time. It'll probably be the best shower gel you ever smell, hand on heart; and with the ingredients being natural and fresh, it's good enough to eat! Almost.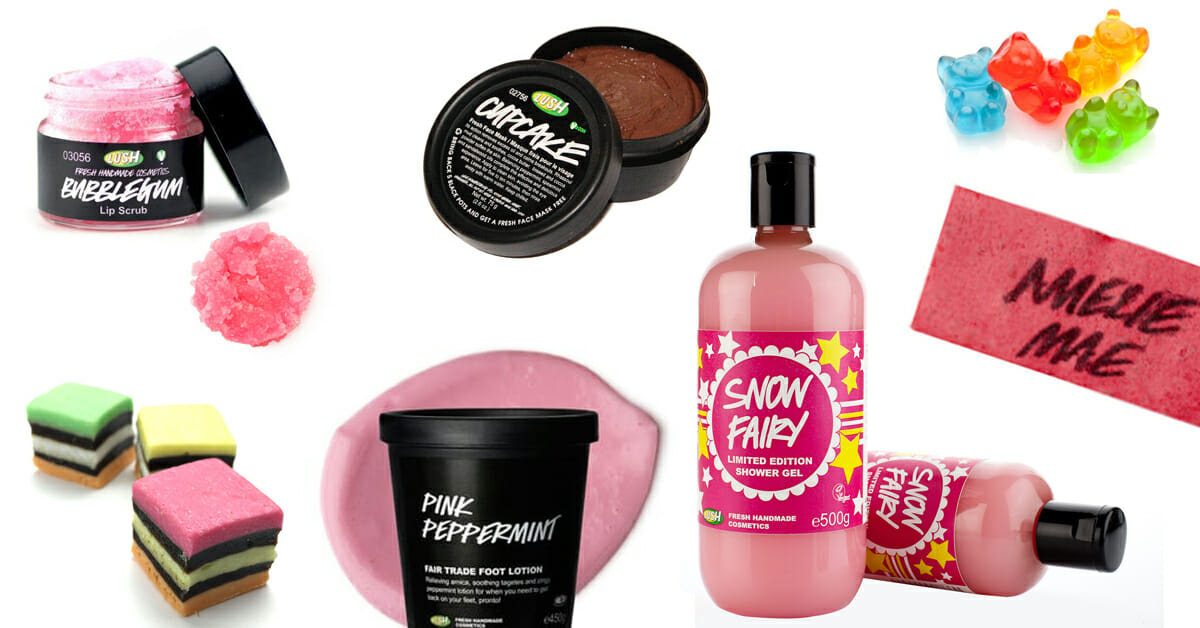 Bubblegum lip scrub | Pink Peppermint Foot Lotion | Cupcake Fresh Face Mask | Snow Fairy Shower Gel | Amelie Mae Wash Card
LIFE'S A BEACH
Life's a beach with Lush! Take a mid-winter escape to a tropical waterfall or secluded oasis during your bathing time, if you can't get away for real. It's really the next best thing. One of my holy grail products is Ocean Salt, a lime-infused vodka and salt mix to rub away dry skin during winter – and who can forget the Life's a Beach sand-like shower scrub for the ultimate vacay take away?! For squeaky clean bathtub adventures, the little yellow submarine bath bomb is the best way to have fun in the sun.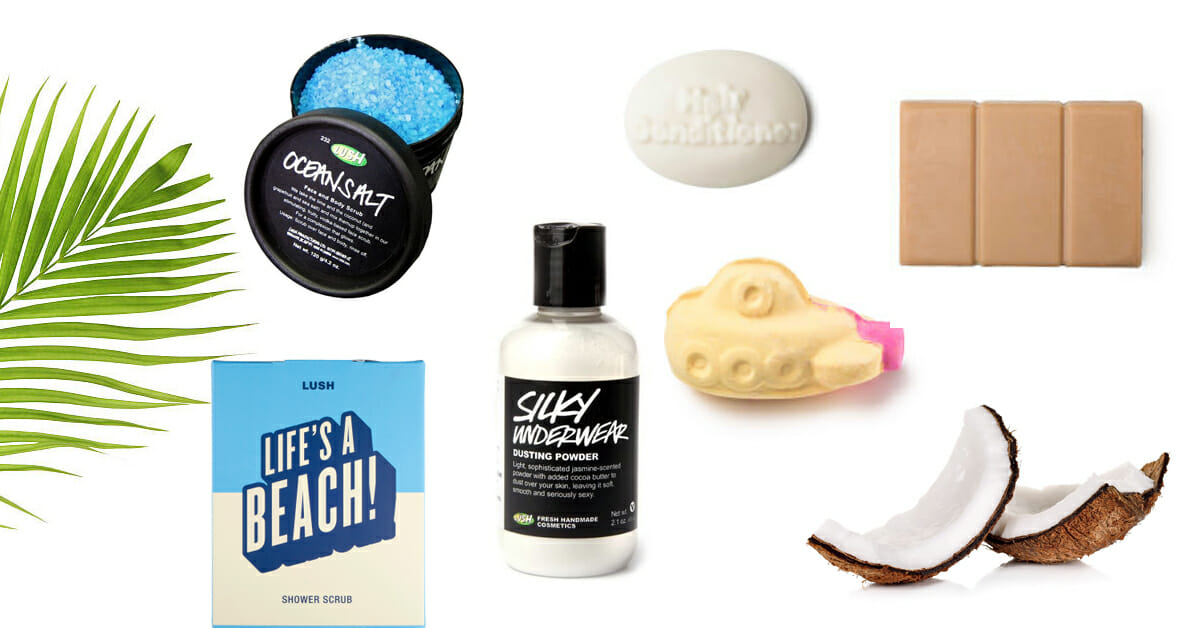 Ocean Salt Self-Preserving face & body scrub | Life's a Beach body scrub powder | Silky Underwear dusting powder | Big Solid Conditioner for mermaid hair | Yellow submarine bath bomb | The Great Barrier solid hydrating wash massage bar 
THAT'S A MOOD
A starry night galaxy escape or an underwater exploration? If you want some shower products to match your stormy mood, we've got just the trick. Lush's famous Intergalactic bath bomb is regularly shared on the 'gram for a reason – it's absolutely epic (trust me, Google it). Cobalt blues, stripes of shocking pink and midnight purples make this one of the most fun bath products in the whole galaxy! Throw in some Aliens and Monsters FUN (a wow-scented Play-Doh-esque body treat) for bath time out of this world. For something a little dark and rich for a shockingly surreal shower, give Lush's new Plum Rain shower gel a whirl – we reckon you'll love the mandarin oils and seaweed extract.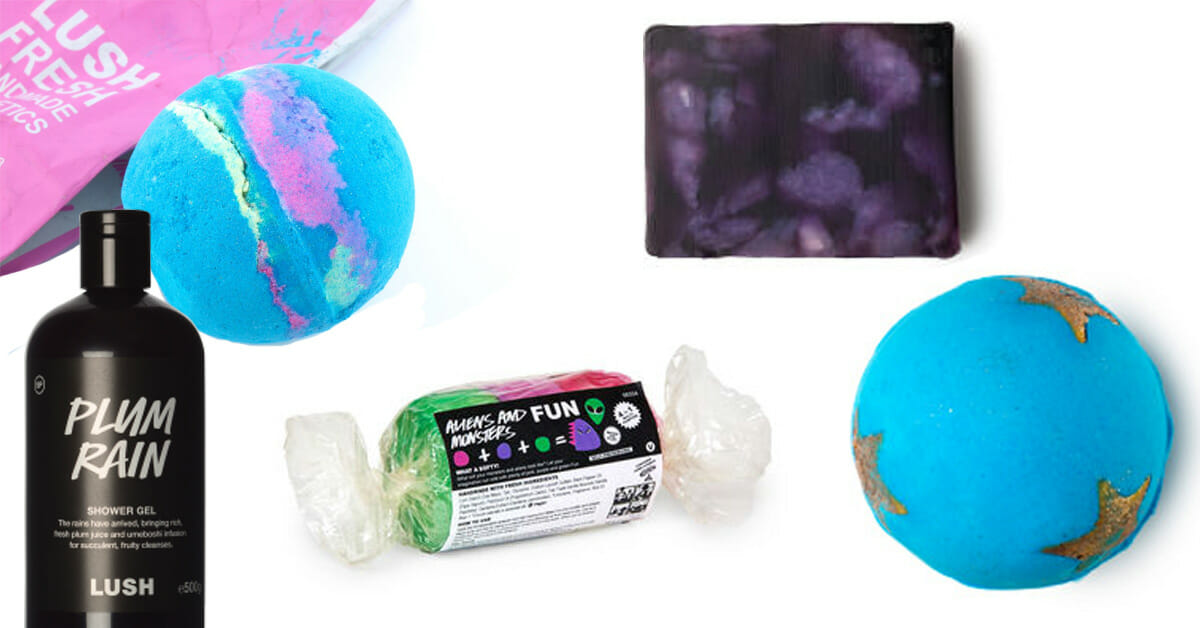 Plum Rain shower gel | Intergalactic bath bomb | Aliens and Monsters FUN | Respect your Elders soap | Shoot for the Stars bath bomb
Make bath time a treat! Go on, you deserve it.